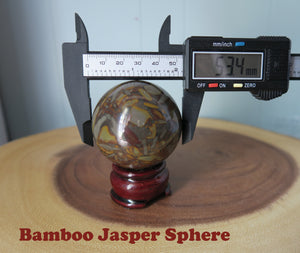 Bamboo Leaf Jasper Sphere

This beautiful sphere is stunning with its shades of greens and red-browns.
Bamboo Leaf Jasper is a conglomerate of sandstone structures in a silica matrix. A light yellow, light brown, dark brown and tan mix of colors.
See measurements in pics.  

🍃Bamboo Jasper holds a gentle and relaxing energy, promoting tranquility and healing. It is said to be a grounding stone helping to stabilize and energize the physical body. It is used to activate the root chakra.